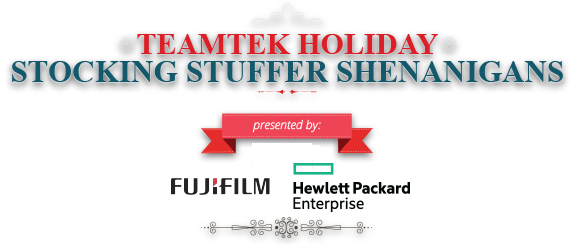 As a thank you for your continued business,
TeamTek would like to offer you a reward for your business.

For every $1,000* purchase order of Fujifilm and Hewlett Packard Enterprise storage media products placed between November 2 - December 11, 2014, TeamTek will offer you your choice of one DVD movie from the catalog below!

Place your order today and claim your stocking stuffer movie!
Wes Pollock | 407-857-1714
Ed Bragdon | 321-345-7828
Steve Parr | 407-857-1714
*Purchases must be in a single purchase order. Minimum $1,000 required on each PO in order to qualify. TeamTek, Fujifilm, and Hewlett Parkard Enterprise reserve the right to cancel promotion at any time. Only purchases of Fujifilm, and Hewlett Parkard Enterprise storage media products are eligible. Winners will be contacted via email to select movie title. TeamTek selected the DVD movies that are represented in this promotion and reserves the right to substitute movie title based upon availablility. DVD movies may be widescreen or full screen depending on availability. Special editions are not a guarantee. Images are not of the actual movie. Appearance may vary. Please allow 1-3 weeks for delivery of prize(s). Non transferable. No substitutions for cash are permitted. Account must be current and in good standing to qualify for reward.